Problem
Create an app video-game for both Android and iOS, co-branded to Microsoft and the NFL, and highlight four of the biggest names (egos) in the sport, in about 8 weeks - so that we can launch in Miami during the championship - are you kidding?
Solution
This project was only successful because of the team. Job-titles-schmob-titles - everyone on this team played every role at some point and to some extent. Strict Agile methodologies were observed to meet deadlines, but creative came from everyone.
Team
1 UX designer

3 developers

2 content writers (and creatives)

1 creative director

1 project manager

Tons of support (video, graphics, phone calls)
ALL REQUIRED TO BE "GAMERS"
My Role
UX design

UX research

Review EVERYTHING

Play test

Act-out animations

Correct faulty football knowledge
Known Friction
About 8 weeks to deliver -

In terms of brand approvals - far too many chefs in the kitchen

None of us had ever built a game

Featured player has on-field incident, league considers suspension, now what?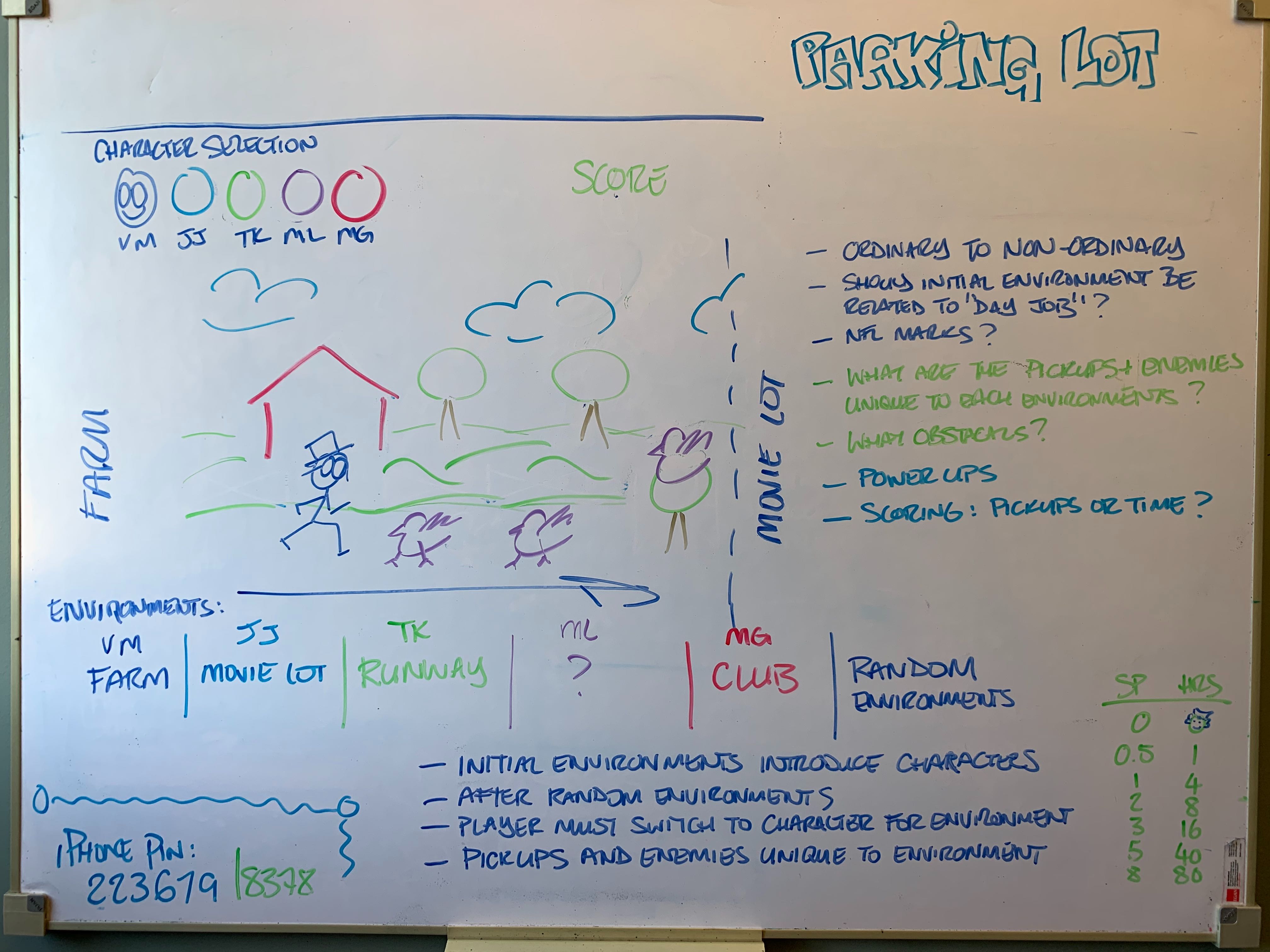 Brainstorm
The team was assembled, and upon hearing the time constraint, quickly agreed to some guerilla-tactics to meet the challenge.
How and why did you choose which path/s to map?

How did you test and validate the map?

What did the journey mapping reveal?

What were the main pain points of the user?

What changed in the design due to user journey mapping?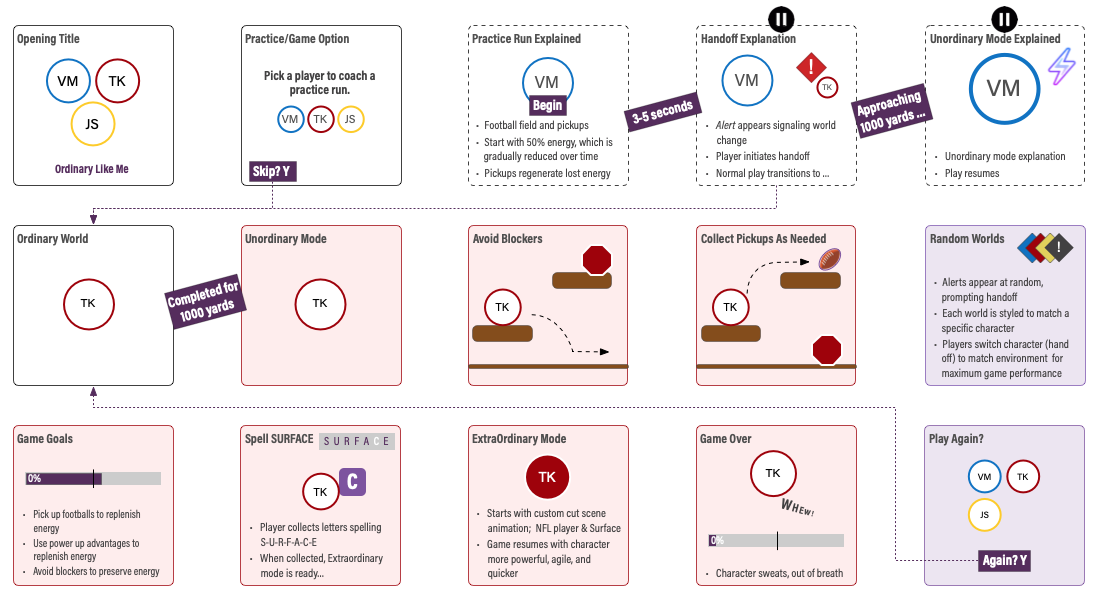 Storyboard
Inspired by watching Star Wars documentaries as a kid, I decided I could offer the team a storyboard for the game, quick-and-dirty, to provide a frame work to think about the game, plan for it, etc. What is it that we are building? What is our story?
Title screens

Orienting

Playing

Playing again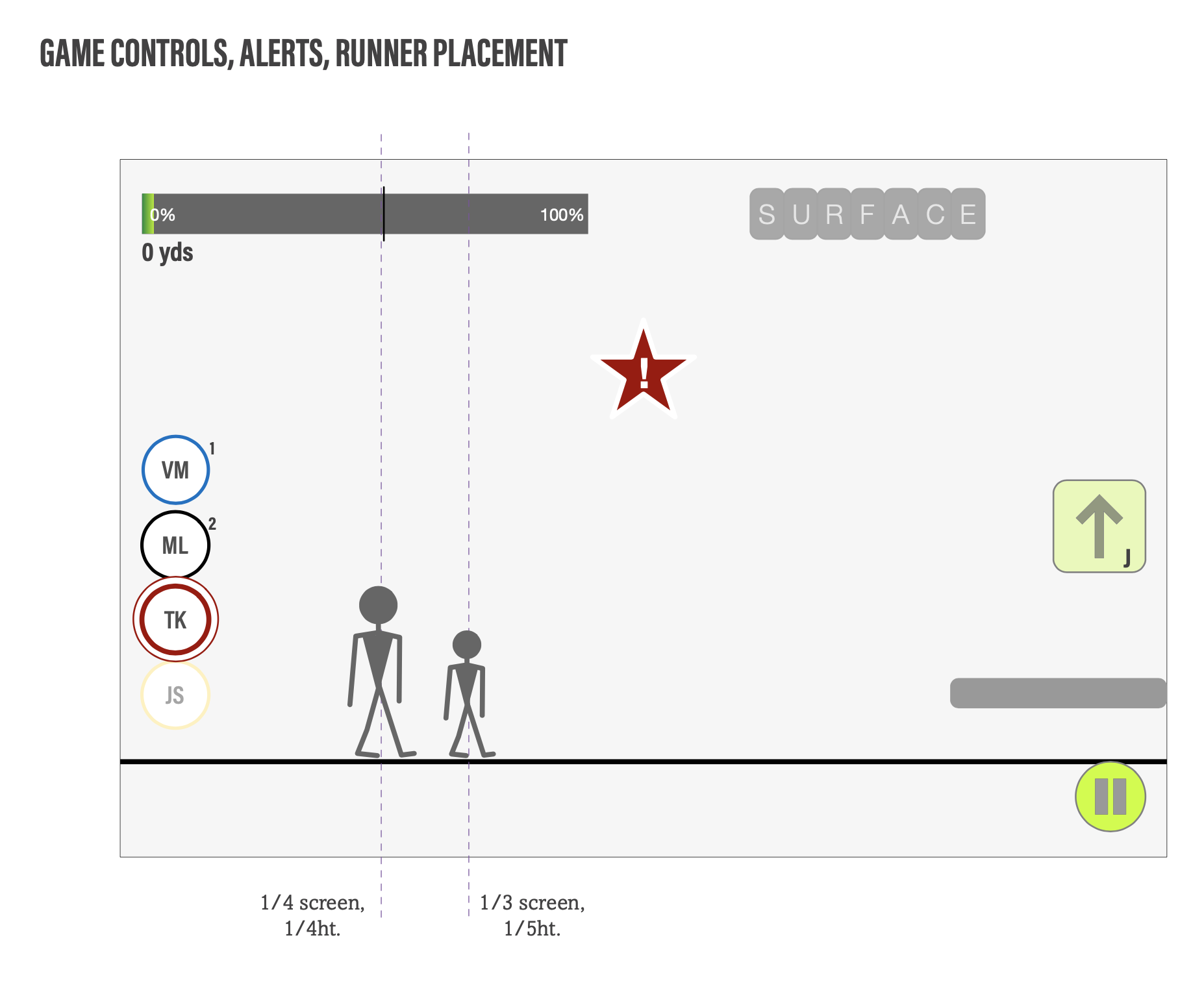 Design
For the life of the project, I thought about the mechanics of the game, and how we would tie-in real world content and branding over the top of it, to create an engaging experience for brands and fans alike.
Game considerations
Screen real-estate - how big can buttons really be?

Increasing difficulty - what feels natural?

A11y Aspects - How accessible can we make the game? (Not perfect, but we did try.)

Game features expected on all games - settings, customizations, etc.
Game-development considerations
What actions, surprises, and personal branding go with each real-life player appearing in the game?

Early prototypes (drawings, process diagrams, early sketches) for stakeholder and executive updates and move-forward approvals.

How best to get approvals for artwork, branding, and ultimate approval to go-live?

During development, constant play-testing, and generating JIRA tickets for needed enhancements.

Review and critique storylines, graphics styling, animations, full game testing, and full share with client stakeholders.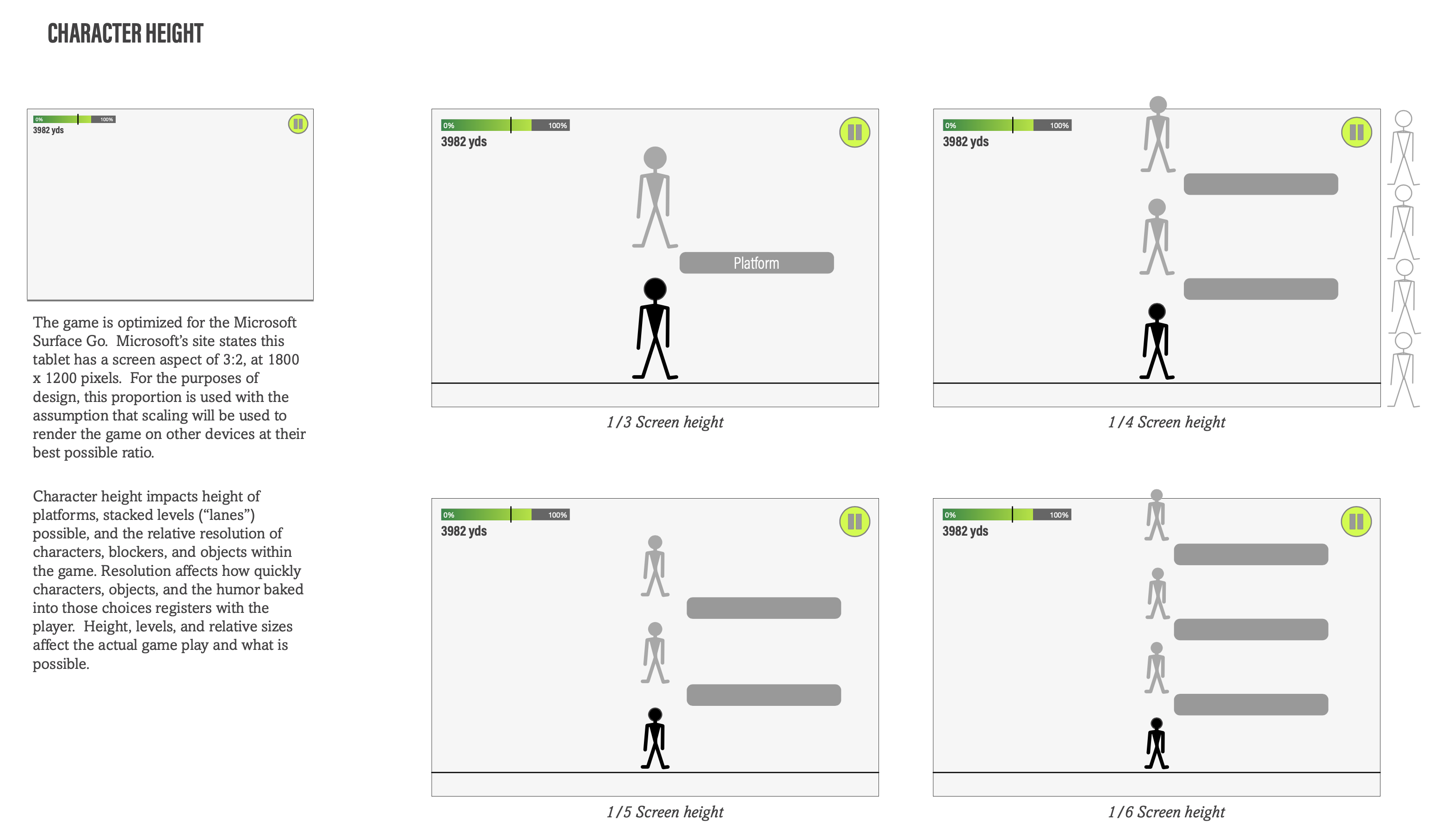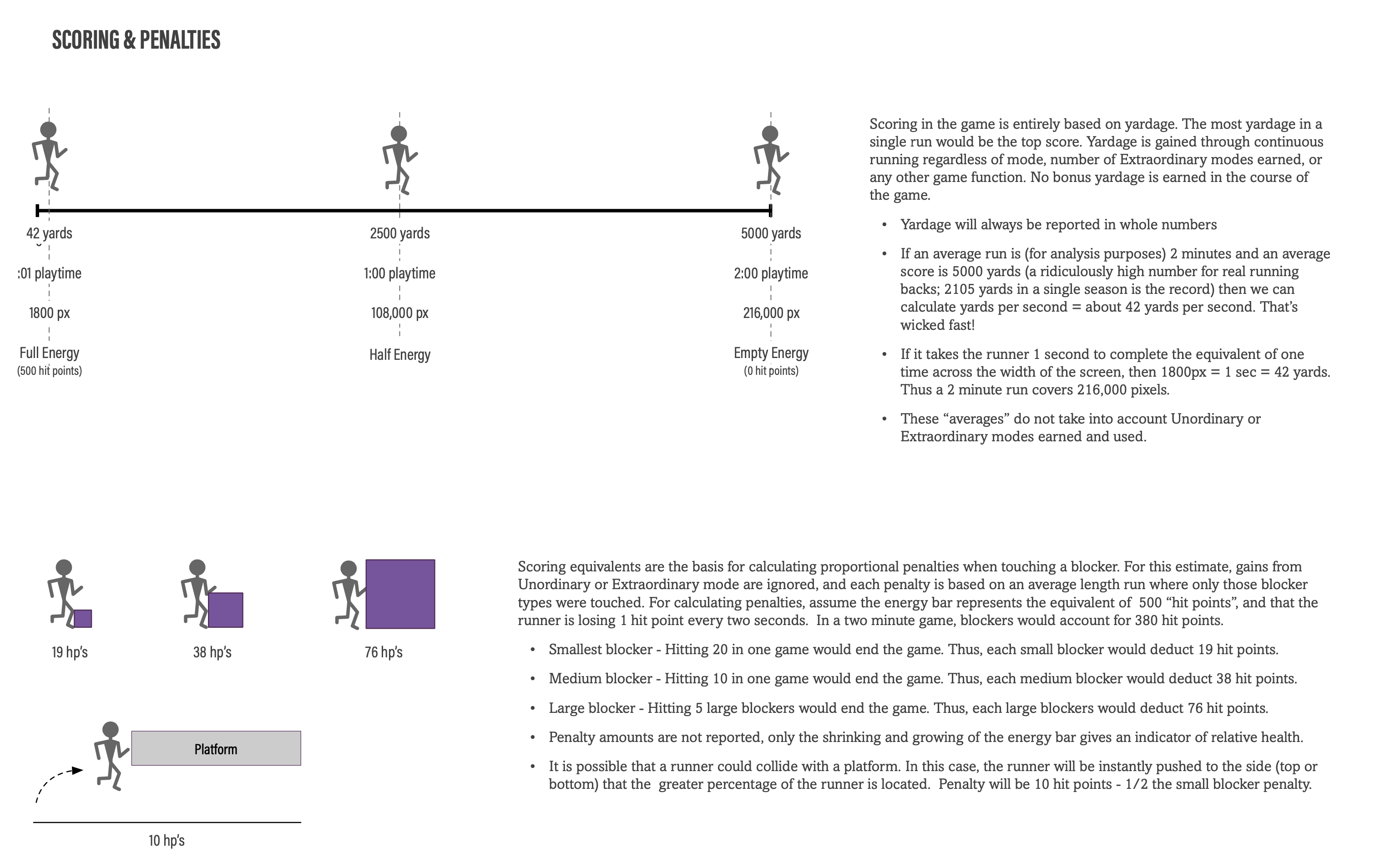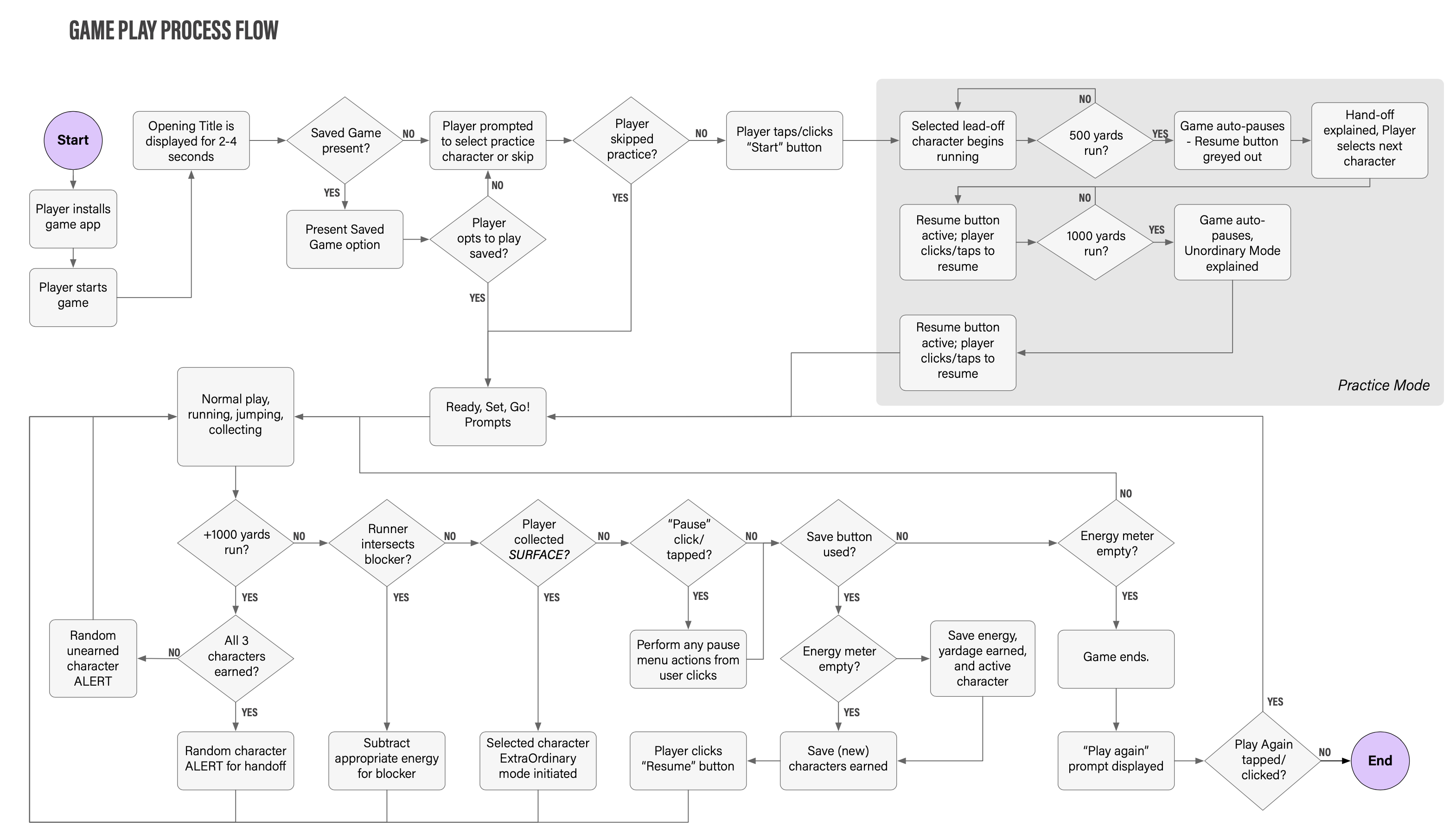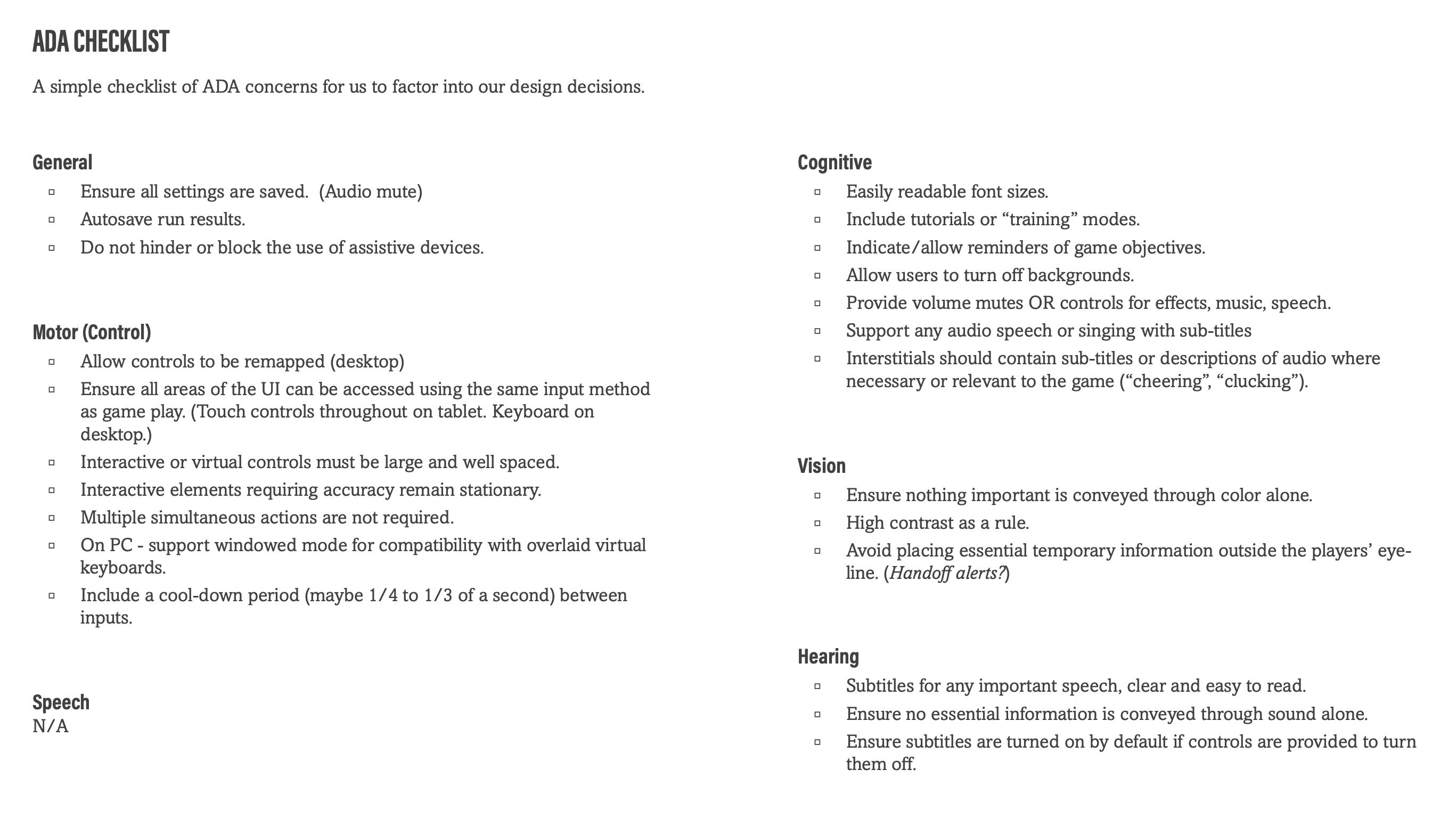 Results
We built and delivered Outrush Ordinary on-time. The marketing and video crews took over, and well; I'm pretty proud of what we created (clearly).
Despite the AAF removing all usable links, it is a fact, we won a Gold Addy in 2020 for Outrush Ordinary. Pleasing the clients, and creating much joy.
Learnings
This project taught me the power of team that trusts each other to
Give and receive feedback, regardless of roles, and always with respect for our team's expertise

We have a "decider" - provide input, but then support decision

Have fun - we're building a game and games are fun

Do it right - we barely had time do it right - we had no time for mistakes
With clear purpose of goal, and shared direction, it was a fast, well-oiled, and successful outcome for everyone.